Your All-In-One Guide
to WhatsApp Transfer
Official link
Typical Problems You May Face with
Whatsapp transfer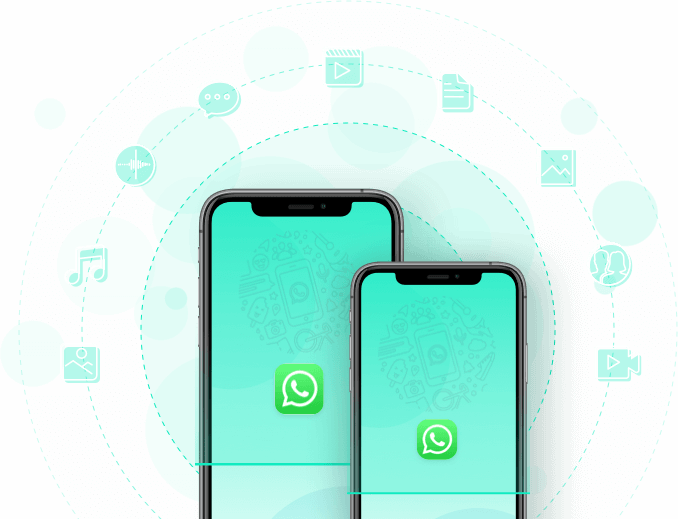 Can not Find the Official Ways to Transfer Whatsapp between iPhone and Android
It is harder or almost impossible to transfer data between iOS and Android, especially for social apps like WhatsApp. Presently, there are no official solutions that support a WhatsApp transfer between iPhone and Android.
Can not Get Back the Previous Whatsapp Backup Due to Data Overwriting
The problem is faced by both iPhone and Android users. It does not matter if you have taken a backup on iCloud, iTunes, or Google Drive - the restoring process would overwrite the existing data, leading to the loss of your Whatsapp chats.
Must Transfer All Data on iPhone Including WhatsApp Data
One of the major problems faced by iPhone owners during WhatsApp transfer process is that they have to restore all data at once. When we use iCloud or iTunes to transfer whatsapp files, it just takes a long time to finish, so it takes plenty of space as well.
Must Reset Phone first in order to Restore WhatsApp Data
When iPhone users want to restore WhatsApp via iCloud or iTunes, they have to reset their target phone. This means all the other data on the phone will be erased.
Explore the Most Comprehensive and Reliable Whatsapp Transfer Solution
The iSkysoft Toolbox is fully integrated with WhatsApp transfer software that enables you to transfer WhatsApp Data easily from iPhone / Android to iPhone / Android. It offers all-in-one solution to meet any WhatsApp transfer needs.